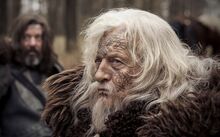 Vecchio saggio e vitki del gruppo di ribelli di Hamarolf.
Aspetto: è un vecchio con barba e capelli bianchi come le nuvole e la faccia tatuata all'antica maniera. Ha l'espressione sempre severa e contrariata e non parla molto in presenza di stranieri. Hamarolf si consulta sempre con lui prima di prendere una decisione.
Relazioni: è esplicito nel dire che non si fida dei magi ed è contrario ad un'alleanza con loro.
Gruppo: Ribelli di Hamarolf
---
5 Aprile 790: incontra il gruppo nel bosco di Paderborn.
Ad blocker interference detected!
Wikia is a free-to-use site that makes money from advertising. We have a modified experience for viewers using ad blockers

Wikia is not accessible if you've made further modifications. Remove the custom ad blocker rule(s) and the page will load as expected.