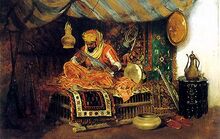 Mercante di schiavi arabo.
Aspetto: carnagione scura, capelli ricci corti, naso con gobba, Errai è un uomo di mondo dai gusti raffinati. I suoi abiti sono di seta pregiata e pregevole fattura, i suoi modi e il suo eloquio altrettanto.
Bio: Errai viaggia nel nord Europa per comprare schiavi pagani da rivendere in medio-Oriente.
Gruppo: Paderborn.
---
5 Aprile 790: il mercante va a trovare Crosmuat mentre è prigioniero di Mèdard e sospettato della strage di Paderborn. Gli propone di addossare le colpe ai suoi compagni e di accettare di diventare un suo schiavo per aver salva la vita. Il magus rifiuta.
Ad blocker interference detected!
Wikia is a free-to-use site that makes money from advertising. We have a modified experience for viewers using ad blockers

Wikia is not accessible if you've made further modifications. Remove the custom ad blocker rule(s) and the page will load as expected.