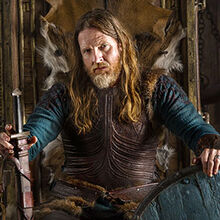 Jarl Hildebrand è conte delle terre a ovest dei monti Harz.
Bio: è conosciuto come un convinto sostenitore dello sforzo evangelizzatore di Carlo in Sassonia. E' stato tra quelli che hanno denunciato i ribelli di Verden, condannandoli di fatto a morte. Tra questi c'erano anche i genitori di Eomar e Ermentrude.
Relazioni: ha una figlia di nome Gislinde e un figlio di nome Hraban. Non è in buoni rapporti con Jarl Dagenhard.
Gruppo: Windehousen.
Ad blocker interference detected!
Wikia is a free-to-use site that makes money from advertising. We have a modified experience for viewers using ad blockers

Wikia is not accessible if you've made further modifications. Remove the custom ad blocker rule(s) and the page will load as expected.