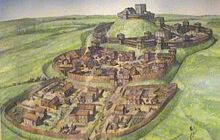 Paderborn è la città franca più importante in terra di Sassonia. Qui ha sede l'Arcivescovo e Conte Mèdard, e da qui Carlo è sempre partito per le sue campagne militari nella zona. Paderborn siede presso le sorgenti del fiume Lippe, dove si convertirono i primi sassoni nel 776.
Paderborn è un forte del tipo terrapieno e recinzione che si sviluppa su quattro livelli. I più esterni sono abitati dalla gente comune, in gran parte sassoni convertiti, che vive in povere case di legno a contatto con gli animali da fattoria che sono così importanti per ogni famiglia. Qui è stata costruita una chiesa di legno senza campanile dove la popolazione si riunisce tutte le domeniche per la messa cittadina. Il terzo livello è quello delle baracche dei soldati e delle stalle dei cavalli. Il quarto è sulla sommità del terrapieno, a cui si accede attraverso un pontile di legno. Qui c'è il palazzo imperiale e altre baracche e stalle.
---
PERSONAGGI
Errai, mercante di schiavi
Geoffrey, arcidiacono
Hagen da Metz, cavaliere e capo della guarnigione
Mèdard, Arcivescovo e Conte
Peter, prete
Teodorico, prete
Ad blocker interference detected!
Wikia is a free-to-use site that makes money from advertising. We have a modified experience for viewers using ad blockers

Wikia is not accessible if you've made further modifications. Remove the custom ad blocker rule(s) and the page will load as expected.