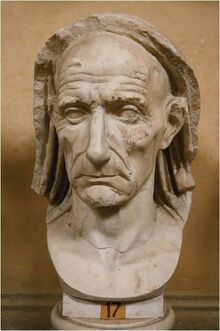 Primo filius di Mercere, ora considerato nella casata di Bonissagus. Pontifex del culto di Mercurio.
Aspetto: nonostante l'età avanzata, sono visibili i frutti dell'impegno che Priamitus ha sempre messo nella cura del suo corpo. Asciutto, longilineo e in un certo qual modo vigoroso, il vecchio magus rimane comunque rigido, sia nel corpo che nei rapporti con il prossimo. E' evidente che tra le varie virtù care agli antichi romani, la gravitas ha un ruolo di primo piano nella considerazione di Priamitus.
Storia: Priamitus è stato il primo discepolo di Mercere, dato che cominciò l'apprendistato ancora prima che questo incontrasse Bonissagus. Nel corso dei decenni, mentre Mercere spendeva quasi tutto il suo tempo supportando Trianoma nei suoi sforzi politici e diplomatici, Priamitus si impegnò a fondo nel recupero e riscoperta dell'antica magia dell'Impero Romano, sotto l'entusiasta patrocinio dello stesso Bonissagus. Dopo l'incidente che ha portato Mercere a perdere il dono, questi si è rifiutato di essere ancora considerato il primus di una casata, e così Priamitus è in un qualche modo confluito nella linea di Bonissagus stesso.
Ruolo: oltre ad essere considerato un Arcimagus di grande sapienza, Priamitus si occupa di tutta una serie di cerimonie rituali d'impronta antico romana che accompagnano i momenti più importanti della vita dell'Ordine. Molti giovani magi lo conoscono per lo meno perchè ha dato la sua benedizione durante il loro ingresso ufficiale nell'Ordine.
Ad blocker interference detected!
Wikia is a free-to-use site that makes money from advertising. We have a modified experience for viewers using ad blockers

Wikia is not accessible if you've made further modifications. Remove the custom ad blocker rule(s) and the page will load as expected.