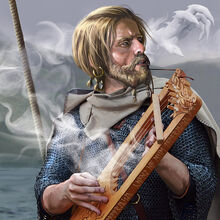 Skaldo e consigliere di Jarl Dagenhard
Aspetto: Ramerico è uno skaldo esperto, che ama ascoltare e raccontare storie. Nonostante questo è anche un guerriero che va sempre in giro armato e che sa distinguere un amico da un nemico.
Bio: è lo skaldo di Alfburg, e quindi si occupa di allietare le cene della corte e le ricorrenze in paese. E' anche la persona più informata sui fatti che avvengono dentro e fuori la contea.
Gruppo: Alfburg.
---
21 Aprile 790: incontra il gruppo e riconosce Einar.
Ad blocker interference detected!
Wikia is a free-to-use site that makes money from advertising. We have a modified experience for viewers using ad blockers

Wikia is not accessible if you've made further modifications. Remove the custom ad blocker rule(s) and the page will load as expected.