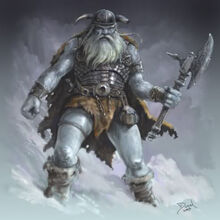 Gigante delle tempeste.
Aspetto: Il gigante è alto tre volte un uomo, ha un corpo muscoloso ed è vestito solo con un'armatura vichinga con tanto di elmo. Ha capelli e barba lunghi, sempre agitati dal vento e il cipiglio fiero del guerriero.
Bio: tanto tempo fa Romer si innamorò della ninfa Ruma, da cui ebbe un figlio. Quando il padre di lei, il Re dei Nani Gübich, li scoprì, uccise il bambino e intrappolò Ruma in una caverna. Nel frattempo Romer è diventato un servo di Gunnvara. I magi hanno liberato Ruma dalla sua prigionia, ma questo non sembra aver influito sulla fedeltà di Romer alla strega.
Poteri: controllo dell'aria e del vento.
Gruppo: Monti Harz.
---
18 Aprile 790: Romer ha combattuto il gruppo su ordine di Gunnvara, ma poi li ha lasciati andare in cambio della liberazione di Ruma.
30 Aprile 790: Ha incontrato di nuovo i magi sul Brocken, dove li ha avvertiti che la prossima volta che li vedrà sarà costretto ad ucciderli.
Ad blocker interference detected!
Wikia is a free-to-use site that makes money from advertising. We have a modified experience for viewers using ad blockers

Wikia is not accessible if you've made further modifications. Remove the custom ad blocker rule(s) and the page will load as expected.