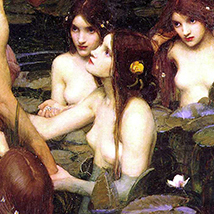 Ninfa dell'acqua.
Aspetto: come tutte le ninfe, Ruma ha l'aspetto di una giovane e bellissima ragazza. Tra i suoi capelli vi sono strisce di alghe, come anche di alghe e foglie d'acqua è fatto il suo discinto vestito. Mani e piedi sono leggermente palmati.
Bio: tanto tempo fa Ruma si innamorò del gigante Romer, da cui ebbe un figlio. Quando il padre di lei, il Re dei Nani Gübich, li scoprì, uccise il bambino e intrappolò Ruma in una caverna. E' stata liberata dalla prigionia dai magi, e ha con loro un debito di riconoscenza.
Poteri: trasformarsi in acqua.
Gruppo: Monti Harz.
---
18 Aprile 790: I magi hanno liberato Ruma dalla prigionia, e per riconoscenza lei li ha messi in guardia da Gunnvara e dal gigante Romer.
Ad blocker interference detected!
Wikia is a free-to-use site that makes money from advertising. We have a modified experience for viewers using ad blockers

Wikia is not accessible if you've made further modifications. Remove the custom ad blocker rule(s) and the page will load as expected.